My first trade - 500 poker chips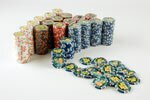 I just traded my sixty-cent PKR check to
GoldenPalace.com
for a very cool set of custom poker chips. Seriously, these chips are out of hand. They all have "GoldenPalace.com" emblazoned across one side, while the other side displays a photo of one of GoldenPalace.com's unique marketing ploys.
My favorite chip is the blue one, which commemorates the purchase of William Shatner's kidney stone for $25,000. While not nearly as cool at Jean-Luc Picard, Captain Kirk is still pretty bad ass.
This is obviously a HUGE trade for me. You can't buy this chip set. They were created as a promotional tool for GoldenPalace.com, but GoldenPalace.com currently has no plans to release them into circulation.
A little more about the chips:
· They're heavy-duty, weighing in at nearly 14 grams apiece
· 150 White - Brittany Skye (U.S. Open streaker)
· 150 Blue - William Shatner's kidney stone ($25,000 on eBay)
· 100 Red - Bernard Hopkins (Boxer with HUGE back tattoo)
· 100 Black - Grilled Cheese Virgin Mary ($28,000 on eBay)
· Okay, there's no case, but for these chips, who really cares?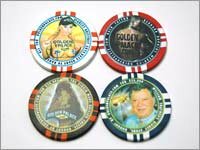 So why is it a good trade for GoldenPalace.com? Seriously, all they're getting is a sixty-cent check out of the deal, right?
"On the surface, this might not seem like a good trade for us," said GoldenPalace.com CEO Richard Rowe. "But we though this was a great opportunity to get in as the first trader and help Aaron achieve his goal."
Plus, my sixty-cent check could end up between William Shatner's kidney stone and a grilled cheese that bares an image of the Virgin Mary. Who would have thought that something of mine could end up sharing a stage with Captain Kirk and Holy Mary, Mother of God?
I'm really excited about this trade. Lots of people think I'm crazy and should have invested
half of my sixty-cent check in securities and the other half in low risk mutual funds
. Others thought I should buy
Bazooka Joe bubble gum
. But I traded it for a set of 500 GoldenPalace.com poker chips.
And while this set of poker chips is pretty cool, my final goal is to keep making trades until I get the buy-in for the Main Event of the WSOP.
If you can use a set of 500 custom poker chips from GoldenPalace.com and have something to trade, send me an offer at .