Trade number two is in the books
I've just taken one more step in my journey to trade my way from a sixty cent check from
PKR.com
to a ticket into the Main Event of the 2007 World Series of Poker.

I'm trading the set of 500
GoldenPalace.com
poker chips to Lee Adams in Fishers, Ind., for an autographed basketball signed by the 1975-76 Indiana Pacers.
A lot of people probably thought I'd given up on my quest. I'll admit it's been awhile since I've made a trade. I've been holding onto these GoldenPalace.com poker chips for almost three months, but I was waiting for the perfect trade, and yesterday, it finally came through.
Why is this the perfect trade? Well let me tell you a little bit about the basketball.
A little over 31 years ago, Lee won an auction held by his local PBS television station to be a "Pacer for a Day." He was issued a team uniform, participated in team warmups and sat on the bench during an exhibition game on October 13, 1975.
Lee, who was 20 years old and a huge fan of the team, hoped to get some playing time with some of his favorite players, but never got a chance to get off the bench.
He did, however, get interviewed by the Pacers play-by-play broadcaster. And as a souvenir, the club gave him a signed ball.
When Lee first offered me the ball, I have to admit I was a little skeptical. I asked him why he was willing to trade such a treasured memento.
"My priorities in life have changed immensely over the years," Lee said. "I still enjoy sports and follow current events as I have time. But I am a father of eight children, seven of which are special needs and adopted."
"I actually had it in a box and when we recently purchased a new home I found it and began thinking about what I should do with it. I have an album that chronicles that night, so that will always be my keepsake."
Lee was interested in the poker chips because he's been "swept up in the poker boom." He enjoys the occasional trip to Las Vegas and has won a few small tournaments.
These chips will certainly be a conversation piece in any home game Lee plays. Wait until he tells the story about how he got them …
So it's now official: The poker chips are off the board. I'm now accepting offers for a basketball signed by the 1975-76 Indiana Pacers.
If you'd like to make a trade for the basketball, please send me an e-mail at . I'm looking forward to hearing your offers!
1975-76 Indiana Pacers Signed Basketball
Last season Pacers played in the ABA
Ball is red, white and blue with Indiana Pacers logo
Traded by Lee Adams, the original owner, for a set of 500 poker chips from GoldenPalace.com
Ball is signed by
Google and search engine optimization
My co-worker Ryan McLane Googled me this morning to see if Sixty Cent Main Event was bumping me up the search engine's rankings.
Alas, I am still second fiddle to a young piper named Aaron Todd.
I'll admit it, I've Googled myself before. It's one of those things everyone has done at some point. And since you can find me on the Internet, I must be important.
Anyway, this
other Aaron Todd
is hogging the top spot at both Google and Yahoo when someone searches for Aaron Todd. At least I'm at the top on MSN.
Now there's no one in the world who loves the bagpipes more than me. The only reason I went to my college's commencement ceremony every year was to hear the bagpipers play the recessional tunes.
Seriously, we're all proud of you kid. But come on Google, this site hasn't been updated for more than two years. Meanwhile, I've won sixty cents in an Internet poker freeroll, decided to trade my way to the World Series of Poker and made
amusing observations
about the betting world.
As if that wasn't bad enough, Ryan has now leapfrogged over a writer for
teenbodybuilding.com
who dominated him for years. Now the first two results link to some freelance writing he did, followed by his
Casino City page
.
At least I'm still ahead of the guy who has
www.aarontodd.com
, but that site consists of one page that links to itself and allows the visitor to listen to one four-minute track of the guy's music. (Apparently, Aaron Todds are a musical sort. I was in a barbershop quartet in high school … does that count?)
But I'm happy to say that while Google might put me behind the young bagpiper, I can take solace in the fact that both Ryan and I appear in the garble some idiots use on pages created for search engine optimization purposes.
Internet hoaxes, trade offers and the first "Headline of the Day"
On Monday I got to do some
reporter-style digging
, and it reminded me why I got into this whole journalism thing so many years ago.
The idiots who run pokerbandits.ca announced that the U.S. Department of Justice, the FBI and the Canadian government had taken down their site on Sunday.
The site claimed they were shut down because of a message board post that detailed how American Internet gamblers could get around obstacles that several sites have set up to block U.S. players by obtaining a Canadian postal address and masking their I.P. address.
But in the end, it turns out the "shutdown" was all part of a not-so-elaborate hoax.
The operators just changed their home page and removed content from their site. And did I forget to mention that several Internet gambling message boards were miraculously seeded with the news, but added that you could still access the information by checking Google's cache of the page.
Anyway, after a "WHOIS" search revealed that the site's administrative information had changed, I made some phone calls and found out that it had been altered to portray false information. Soon after I made those inquiries, several things happened.
The page announcing that pokerbandits.ca had been seized was taken down
I received an e-mail from "Mikey Tran," a pokerbandits.ca administrator who admitted that the story was a hoax
Pokerbandits.ca's home page now redirects to this page, which admits the hoax but claims it was a "necessary evil" and that the group believes that the UIGEA needs "a much needed scrutiny."
I'm not sure how this hoax does anything to provide "much needed scrutiny" to the UIGEA. All it actually did was create unnecessary panic from some people who continue to believe the sky is falling.
In other news, since I announced I was renewing my search for trade offers for the GoldenPalace.com chip set, I've been getting some AMAZING offers and am in the process of finalizing a few details for one that looks very promising. I'm not going to give any more details or timetables, but I have a very good feeling about the direction this project is heading.
Finally, just for fun, the first winner of my
headline of the day
contest …
Back in the saddle again
It's been almost three weeks since my last post, and many of you are probably wondering if I've given up on my quest to trade my way from a sixty-cent check from
PKR.com
into the buy-in for the 2007 World Series of Poker.
Fear not loyal readers, for my quest continues and the recent break is easily explained.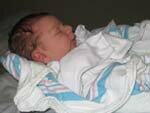 My wife gave birth to our first child, Charles Edward Todd, at 2:30 a.m. on Jan. 25. I've spent the last two weeks being a full-time dad. I must say it's been incredibly rewarding, but also very draining. I did almost no work with this site, nor did I do anything to seek out trades over the last two weeks.
That, however, is about to change.
I'm back to pursuing this trading business full time, and there's a growing sense of urgency. The Main Event begins in less than five months, and I've got a long way to go to get from a set of 500 poker chips from
GoldenPalace.com
to the buy-in for the WSOP.
I know I've been stuck at this point for a long time. But there's a very good reason.
I agreed to a trade in principle with a guy out in Seattle more than a month ago (which is part of the reason there hasn't been much trading action lately), but it appears that it's going to fall through … I guess someone failed a physical or something.
I'm not going to rule out my Seattle trade yet, but since I've only heard from this guy once in the last month and a half, I'm not holding my breath.
For all the details on what's up for grabs with the GoldenPalace.com poker chip set, check out the
trade post
. To offer me a trade, shoot me an e-mail at .