Sweet, sweet victory
Yeah, I work in . But I am lucky enough to share an open cube space with two other writers and our editor. Whether this setup increases or decreases productivity is up for debate, but one thing that is crystal clear is that it results in a number of lively discussions throughout the week.
Last week, I discovered that three of the biggest online poker rooms (
Poker Stars
,
Full Tilt
and
Ultimate Bet
) were still offering their large Sunday night guaranteed prize pool tournaments, despite the fact that last Sunday was Christmas Eve.
I brought this to the attention of my office mates, and
Ryan McLane
insisted that they knew what they were doing. He even went so far as to declare Poker Stars the "Nostradamus" of Internet poker due to its long history of hitting its guarantee.
He insisted that the possibility of large overlays would actually draw in more players, allowing the tournaments to reach their lofty guarantees. I told him there was no way they were going to get the number of people needed to hit their guarantees. So we decided to place a
friendly wager
on the turnout in the tournaments.
As a result of that bet, Ryan will now be paying my entry fee at the next office poker tournament, and he'll be wearing an outfit of my choosing. That's right, , and I won what some have called the "."
Photos of Ryan will be posted following our next tournament.
Pokerroom provides ammunition for politicians
I was browsing some poker forums this week when I came across a
disturbing thread
(and no, I don't mean
Brandi vs. Captain Tom
).
It seems that PokerRoom.com made an error and inadvertently labeled a tournament with a $19,000 guarantee a few days ago. There were ancillary prizes as well, most notably an HDTV valued at $2,000 for the tournament's winner.
Only 265 people signed up for this $20+2 tournament, which created an overlay of over $13,000. According to the PokerRoom.com forums, that's a big reason many players signed up.
The tournament went normally, with the top-40 players finishing in the money. Each of those players received cash in their accounts, and the winner, "mvzander,"
received $3,829.81
(must have a PokerRoom.com account to view tournament results, click on thumbnail for a screenshot).
The next day, most of that prize money was taken away.
Moderators and PokerRoom.com representatives posted explanations on the forums, saying the tournament was intended to be for the ancillary prizes only, and the $19,000 guarantee was a mistake. They gave everyone who participated in the tournament a $10+1 tournament ticket and the players who made the final table were given $100 for their troubles. The winner later received $2,000 back in his account, though he was recently informed that the money represents his HDTV prize and not the first place money that was removed from his account.
The "Pokah" forums at PokerRoom.com are clamoring with players who claim to be jumping ship for greener pastures. Other sites that have forums, including and
Full Contact Poker
, have been discussing the issue, and it's also receiving attention on
Pocket Fives
.
The most ridiculous part? With the $100 to final table players and the $11 tournament entry fees to all the participants, PokerRoom.com has spent almost $4,000 trying to alleviate the damage created by revoking a $13,000 overlay.
So they're saving roughly $9,000 by refusing to wash the egg off their face. I wonder how much they'll lose from the negative publicity …
PokerRoom.com has admitted error in mislabeling the tournament. But it should admit to the more troubling mistake: Taking money out of players' accounts after they had already paid them. Can you imagine if Harrah's made a mistake and gave out too much money in a World Series of Poker tournament? Would the management be brazen enough to ask for the extra money back?
And someday soon, when Congress is discussing the possibility of regulating Internet gambling, an anti-gambling legislator will be able to tell the story of how an Internet poker room refused to pay players the money that they deserved.
Gambling isn't a fantasy
The
AP put out a great story
over the weekend pointing out the hypocrisy of the Unlawful Internet Gambling Enforcement Act (UIGEA).
While casino games (including poker) are targeted, certain wagering opportunities, such as horse racing, lotteries and fantasy sports, are exempt from the legislation.
A spokesman for Rep. Bob Goodlatte (R-Va.), one of the UIGEA's most ardent supporters, said that Goodlatte believes fantasy sports are "skill-based" games. since it isn't a game of chance, it is exempt from the legislation.
Don't get me wrong, I love fantasy football. I play in a league with the same group of guys every year. And each year, our honor code dictates that all the losers send the winner a check for $25 -- so yeah, it's gambling. But I've given up on saying that fantasy football is a "skill game."
I just finished the 2006 regular season dead last with a 3-10 record. Most of that was due to my terrible "defense" as my opponents totaled 1,077 points against me, just four points off the league lead.
The one factor I couldn't control was my schedule, and it determined my team's fate. If I'd had the same schedule as "Chief Karlins Thugs" I would have been 10-3 and earned the top-seed going into the playoffs. I know that there's going to be some variance in most games, but from worst to first? Sounds like a game of chance to me.
CBSsportsline.com
allows players to pay an entry fee for their leagues, then pays out a percentage of the those fees to the winner. Sounds like a bookie to me, and with 40 percent "juice," I'd rather take
Bodog's
odds, let alone
Pinnacle's
.
Fantasy sports are as much of a gamble as drawing to an inside straight. And oh yeah, and in case you didn't notice, I'm still bitter about my team's 3-10 record.
"Poker" tops Internet queries in 2006
According to the search engine Lycos, "poker" was the
most searched term
in 2006, rising from fourth in 2005 and 10th in 2004.
"Poker" is also a
Lycos 50 Elite Second Tier
term, meaning it has been in the top-50 for more than 50 consecutive weeks. Lycos has been ranking the top-50 search terms since August 1999.
Before you claim there's no way poker's ranking could be correct, understand that Lycos does not include searches for "adult" content on the list.
Hmmm… poker ranks at the top of non-porn Internet searches. There seems to be some demand out there for poker on the Internet … maybe we should rethink this whole Internet poker "prohibition."
So which Internet poker room is the big winner when you search for "poker?"
Pokerroom.com
. Surprised? I was.
Pokerroom, which ranks first on both Google and Lycos searches for "poker," has grown quite a bit in the last few years. And over the summer it climbed into the top five of
OnlineCasinoCity's
Internet poker room rankings. But since blocking U.S. players from real-money games – thanks Unlawful Internet Gambling Enforcement Act – Pokerroom has fallen to 17th in those same rankings.
PartyPoker
, also no longer an option for U.S. real-money players, ranks second on Google and is the only Internet poker room to appear on the first page of Altavista and Yahoo search, landing 10th.
Absolute Poker
ranked second overall in an MSN search for "poker."
Top-10 Results for "Poker" query in Internet Search Queries
| | | |
| --- | --- | --- |
| Rank | Google | Lycos |
| 1. | Pokerroom.com | Pokerroom.com |
| 2. | PartyPoker.com | Pokertips.com |
| 3. | Pokerstarts.com | Play4funpoker.com |
| 4. | Poker.com | CardPlayer.com |
| 5. | Wikipedia entry | ThePokerForum.com |
| 6. | PacificPoker.com | ParadisePoker.com |
| 7. | World Poker Tour | FreePoker.com |
| 8. | Pagat.com | Gambling-Poker.com |
| 9. | World Series of Poker | SoYouWanna.com |
| 10. | FullTiltPoker.com | Wikipedia entry |
Sadly, for U.S. players, the top search results land players at rooms that do not accept American play. A Lycos/Ask.com search yields no U.S. friendly Internet poker rooms in the top-10, while a Google search reveals just three (
PokerStars.com
,
Poker.com
, and
FullTiltPoker.com
).
And while politicians that support the Internet gambling "prohibition" can argue that the new law will curb the American appetite for Internet poker, I'm willing to bet that poker will be the most searched term in 2007 as well as American look for new places to play.
Fun Facts about the "Lycos 50"
Pornography is described as "prurient content," which makes it sound much more classy.
General categories, such as weather, news and music are excluded.
Specific examples of general categories (e.g., Apocolypto or Elvis Hitler) are included.
My favorite exclusion? "Tattoos," which has been barred from the top-50 since June, 2003 when it was designated a "general category."
My favorite tidbit? "Tattoos" is a Lycos 50 Elite First Tier term. "Tattoos" was in top 50 every week before it was banished, with nearly half the requests spelled incorrectly.
What I'm looking for (and more importantly, what I'm NOT looking for)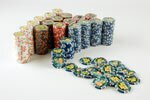 People keep asking me what I want in return for the chip set. I don't know the exact answer, and probably won't until it hits me right in the face.
Right now, I have a very unique item that I'm looking to trade: A set of 500 poker chips from
GoldenPalace.com
. I defy you to locate another set of poker chips that combines a starship captain, the Virgin Mary and an adult film star. Now that's a threesome.
Whatever you offer has to be cool. And I've received some cool, generous offers that I'm still mulling over.
However, there are a few offers I'm going to reject every time.
Stake offers: I think it's great that people are willing to give you money for a percentage of your tournament returns. I wish you the best of luck, but I'm not going to trade with you. Unless you're Phil Ivey and you're offering me 10 percent of your lifetime winnings, in which case I accept.


Stuff that's not fun/tradeable: Yes, I know your high-end computer speakers retail for $250. But seriously, once I have them, how am I going to trade them? What would you want to trade for a set of computer speakers? That's what I thought.


Money: These chips are not for sale. They can only be traded. Unless you want to trade a $10,000 WSOP entry for them. Then, yeah, I guess they're for sale. Otherwise, no dice.
Here are some trade offers I've turned down, and the reasoning behind my decision.
Music group press kits (133 of 'em): This offer has almost everything I'm looking for. Only problem is I've never heard of ANY of the groups. Seriously, who names their group Elvis Hitler? (Apologies to all you 80's Detroit punk rock aficionados). If the trade included Kurt Cobain's suicide note, then THAT would be a trade.


$40 on FullTiltPoker: Yes, $40 in an online poker account would be a big step up from the sixty cents I started with, but it's hard to trade.


My buddy Ryan's left big toenail: This is wrong on so many levels. First of all, he lost it in football practice in college. It may have been a good story if it had happened during a high school game when he actually played, but since it happened in practice, it's just lame. Second, he graduated from college in 2000. Seriously, the guy still has a toenail that fell off more than six years ago. I'm a pack rat, but this is just gross.
I appreciate all the offers, especially the ones that have the spirit of the project in mind. And while I certainly don't want to keep you from making an offering, ask yourself if what you're offering is as fun as the chip set. If it is, I'll definitely consider it.

Keep those fun offers coming, and I look forward to announcing my next trade.
Post Script: I told Ryan that his toenail was untradeable, but he managed to find one guy that actually might be looking for a big toenail.
Write your Congressman a real letter
I mailed my Congressman a letter today. Sure, I've sent automatically generated e-mails to my representatives through Web sites before, but this time I actually sat down and wrote the letter myself.
Writing a physical letter isn't as easy as clicking a mouse. It requires time, research and even some thought. In the process of doing some research, I learned quite a bit about my representative -- which helped me craft a better letter.
The optimistic part of me says Congressman Stephen Lynch will take me up on my offer to join my home game. The jaded part of me says he'll never read my letter. But the realistic part of me knows that my letter will have a greater impact than an e-mailed form letter.
While e-mail form letters might impress with volume, I hope my letter will have an impact in its message and tone.
If you think the Unlawful Internet Gambling Enforcement Act is bad public policy, write your representatives and let them know.
My letter to Congressman Lynch (PDF)
Don't let Christmas get your goat
I've been getting lots of interesting offers for the set of 500 poker chips from
GoldenPalace.com
. I'm talking to a few people to see if we can iron out any deals, but if you can use 500 unique poker chips, please keep the offers coming!
On a completely unrelated note, last week I heard about the coolest prop bet ever.
Apparently, the town of Gavle in Sweden has built a giant straw goat to celebrate Christmas for each of the last 40 years. And for 40 years, it has also been tradition for vandals to try and burn the goat down.
Now comes the fun part (as if that isn't awesome enough) --
PinnacleSports.com
is offering odds on whether the goat will make it to Christmas Day. Initially, the Internet sports book didn't think the goat had much of a chance, but the odds have dramatically shifted in less than a week, with current odds of almost 3-1 in favor of the goat.
Surely the drastic reversal in odds is due the flame-retardant material the town used to protect the goat this year. History, however, hasn't been on the town's side; the goat has been destroyed in seven of the last eight years.
Wikipedia's entry
on the Gavle Goat is a classic … my favorite part is the "Timeline" … in 1976 "Local hillbillies ran the goat over with a car" … local hillbillies? The 2001 entry is also priceless.
For the visually inclined, check out this video from . No, I don't speak the language so I don't know what they're singing, but it is a catchy tune.
And you can see if the goat is still kicking on the .
Am I selling my soul?
I got the
GoldenPalace.com
trade offer literally 20 minutes after I first posted my idea to makes trades starting with my sixty-cent check and ending with a WSOP entry.
So why did it take me so long to finalize the trade? I have to admit I was a little hesitant to trade with GoldenPalace.com at first. After all, these are the same people who paid a married couple $15,000 to name their newborn baby GoldenPalaceDotCom.
But after talking with Kyle MacDonald, the man who inspired this project, I decided that it was absolutely appropriate to trade with GoldenPalace.com.
"I realized that using publicity would be an excellent way to find people to trade with," MacDonald said of his experience making trades to turn one red paperclip into a house. "Once I realized that people were into it, I kind of angled my trades towards (attracting publicity) because it was so helpful to the project."
And if GoldenPalace.com is going to do something, you know they're going to make a big splash.
While the thought of marketing a brand by naming babies makes me uneasy, GoldenPalace has made me smile more often than frown. Who else would inspire streaking at a curling match in the Winter Olympics? And no real American could turn down the owner of the
deed to the White House
.
That said, I never volunteered the news that my wife is due to give birth to our first child in January ...
My first trade - 500 poker chips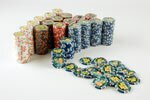 I just traded my sixty-cent PKR check to
GoldenPalace.com
for a very cool set of custom poker chips. Seriously, these chips are out of hand. They all have "GoldenPalace.com" emblazoned across one side, while the other side displays a photo of one of GoldenPalace.com's unique marketing ploys.
My favorite chip is the blue one, which commemorates the purchase of William Shatner's kidney stone for $25,000. While not nearly as cool at Jean-Luc Picard, Captain Kirk is still pretty bad ass.
This is obviously a HUGE trade for me. You can't buy this chip set. They were created as a promotional tool for GoldenPalace.com, but GoldenPalace.com currently has no plans to release them into circulation.
A little more about the chips:
· They're heavy-duty, weighing in at nearly 14 grams apiece
· 150 White - Brittany Skye (U.S. Open streaker)
· 150 Blue - William Shatner's kidney stone ($25,000 on eBay)
· 100 Red - Bernard Hopkins (Boxer with HUGE back tattoo)
· 100 Black - Grilled Cheese Virgin Mary ($28,000 on eBay)
· Okay, there's no case, but for these chips, who really cares?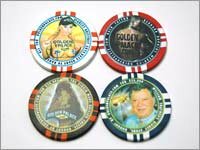 So why is it a good trade for GoldenPalace.com? Seriously, all they're getting is a sixty-cent check out of the deal, right?
"On the surface, this might not seem like a good trade for us," said GoldenPalace.com CEO Richard Rowe. "But we though this was a great opportunity to get in as the first trader and help Aaron achieve his goal."
Plus, my sixty-cent check could end up between William Shatner's kidney stone and a grilled cheese that bares an image of the Virgin Mary. Who would have thought that something of mine could end up sharing a stage with Captain Kirk and Holy Mary, Mother of God?
I'm really excited about this trade. Lots of people think I'm crazy and should have invested
half of my sixty-cent check in securities and the other half in low risk mutual funds
. Others thought I should buy
Bazooka Joe bubble gum
. But I traded it for a set of 500 GoldenPalace.com poker chips.
And while this set of poker chips is pretty cool, my final goal is to keep making trades until I get the buy-in for the Main Event of the WSOP.
If you can use a set of 500 custom poker chips from GoldenPalace.com and have something to trade, send me an offer at .
The blog is born!
Welcome to the new home of my quest to turn a sixty cent check from an Internet poker freeroll into a seat in the Main Event of the WSOP!
I posted all the stories I've written about this project to this point, and from now on, this will be your source for up-to-date information on my trading pursuits. I'll also include my thoughts about the latest news in the Internet gambling world including legal updates and analysis.
While this project has taken some time to get rolling, I'm excited about where it's headed. I'm just about to put the finishing touches on my first trade, and it's a big one. Check back tomorrow for the latest!