Lessons from a week of freerolling
So I've been trying to find time to post a wrap-up of my freerolling adventure, but with the
departure of Pinnacle Sports
from the U.S. market and the
NETeller debacle
, I've been doing a lot of other research and writing lately.
Today, thanks to a lack of breaking news in the Internet gambling world, I get to concentrate on the fun stuff.
After spending the better part of seven days playing Internet poker on several sites without making one deposit, I won $15.40. Thirteen dollars came in freeroll tournaments, while I won the other $2.40 in cash games played with the money won in those freerolls.
I played in 32 multi-table freerolls, cashed in three of them and made the final table in two. I put in 28 actual hours of freeroll tournament play, or 40 "table hours" which account for multi-tabling.
If you add in the hours I spent trying (unsuccessfully) to win a dollar from Poker.com's Fun Steps plus the time I spent playing cash games with my freeroll winnings, I totaled 55 table hours of Internet poker last week, meaning I won an average of 28 cents an hour.
Here's what I learned in those 55 hours …
The quality of play in freerolls is very fast and loose in the first hour. Most people are trying to build a big stack early in an attempt to coast to the money. I did not employ this strategy, instead playing my best to advance as far in each tournament as I could.

I am much better at limit games than I am at No Limit Hold'em. This came as no surprise to me, as the bulk of my playing experience is in limit games. My best finish in a No Limit Hold'em tournament was a 116th finish in the AP Challenge, a $1000 prize pool freeroll that had 743 entries.

Playing three tournaments on three different platforms is hard. It's even harder when two of them are Pot Limit Omaha.

The freerolls I wanted to play most (Razz, H.O.R.S.E., Seven Stud Hi/Lo) are scheduled at the worst time of day for me, so I never got to play them.
I also learned that it would be nearly impossible to start from scratch to build an online bankroll. I played in nine tournaments on Full Tilt and won $2. With that tiny sum, I could sit down at Full Tilt's $.05/$.10 pot limit or no limit cash games, which carry a $2 minimum, or I could use the money to buy into a $1 + $0.25 tournament.
I chose the cash game route, and I actually built my balance up to $6.75. Unfortunately, it fell back down to $2.35 when my 20-1 odds were busted and my opponent caught a runner-runner straight in a PL Omaha game.
Normally, that wouldn't faze me. Bad beats happen to everybody, but when they wipe out half of your account balance, they're a little tougher to stomach, especially when you've spent so much time trying to build that pittance out of nothing.
Basically, I'm bound to go broke on Full Tilt. My freerolling built such a small amount that I would have to be right every time I play AND avoid bad luck. That's just not going to happen.
On Absolute Poker, I actually have enough money that I could avoid going broke. I've won about three big bets an hour on their $.02/$.04 six handed Limit Hold'em games, and with more than $12 in the account, I have more than the recommended 300 big bets to play at that limit.
Thing is, it's $.02/$.04. Seriously, if I continued to win at that rate, which is unlikely, it would take me 400 hours to build up enough money to play $.10/$.20, which is the next step up on Absolute Poker.
By now, I'm sure you've figured out that I'm not a high roller. But I'm also not a mini-roller. I play $4/$8 at casinos because I don't think anyone can overcome the rake at $2/$4, and our home game plays for dollar stakes instead of quarters.
This freeroll thing was fun, and while I was risking absolutely nothing, I won next to nothing. Unless you're on a very tight budget, the only way to have enough money in your account to play at a reasonable level is to make a deposit.
Pay the over, and trying to cash in on my side bet
That's right, for those of you who bet the "over" in my freeroll quest, it's time to cash in.
This morning, I won three dollars for finishing seventh in a $50 prize pool Limit Hold'em tournament on
Absolute Poker
. My second finish in the money upped my total freeroll winnings to $11 and pushed me past the over/under line by a buck.
Now that the over/under question has been settled, just one question remains: Can I win one dollar on
Poker.com
through their Fun Steps?
Steve doesn't think I can do it. Even though he should be sick of losing money to me (he plays in my weekly home game), he's giving me 8-1 odds on getting through the three steps to win a dollar. If I win, Steve owes me eight dollars. If I don't, I owe him a buck.
If I had unlimited entries it would only be a matter of time. Unfortunately for me, it costs $100 in play money to enter the Fun Step 1 tournament. And you can only get $500 in play money every 24 hours on Poker.com.
While I could try to grind out some extra entries by playing on the play-money tables, I'm going to stick to these last 10 entries and see where they take me.
I haven't focused on these tournaments as much as I probably should have, considering my pride is on the line. But when I have played in them, I've done well, winning one-third of my Fun Step 1's and one-third of my Fun Step 2's.
But now that I've hit my over/under requirement, it's going to be a Fun Step bonanza.
Early Success!
When I first planned this little freeroll adventure, I figured I'd struggle for a few days, then finish on the bubble a time or two before finally cashing on day five or six.
I certainly didn't expect to finish second in a 2,000-person tournament on the first day.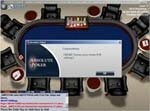 That's right, I managed to eke out a second-place finish in an Omaha Hi/Lo freeroll yesterday on Absolute Poker. Total winnings? Eight dollars.
The tournament was my 10th multi-table freeroll of the day. And it was the first time I came even close to finishing in the money.
The most difficult part of the day was the chaos that resulted from signing up for so many tournaments. Seriously – if you blink, the Full Tilt tournaments are full. It got so bad I had to start setting an alarm to alert me that another freeroll was about to begin accepting registrations.
At one point, I was playing a Limit Hold'em tournament at Absolute Poker and Pot Limit Omaha tournaments at both Full Tilt and Poker.com. I've heard that some people are able to play as many as eight tables at once. Apparently I can't handle three – especially when two of them are Pot Limit Omaha.
The only problem with finishing second in the tournament was that it took almost six hours to play to the end. And it started at 5:15. And my wife expected me home for dinner. And yes, I'm an idiot.
Obviously, I never should have signed up for the tournament. Sure, more than 50 percent of the field is eliminated in the first hour of these freerolls – especially the No Limit tournaments. But in order to finish in the money, you have to outlast
at least
98.5 percent of the field. Which means you have to be in it for the long haul.
I assured Wendy that I'd most likely bust out in a half an hour just about every hour. I was wrong every time but the last one.
When we were on our fifth break and there were just three players remaining, I was the chip leader and told her I had a very good chance to win the whole thing, which led to this exchange.
"So what do you get if you win? Fifty bucks?"
"Actually, it's 10."
"Ten dollars? You've been playing in poker tournament for the last five hours to win 10 dollars?"
To repeat, I am an idiot. But I'm also only two dollars away from beating the office over/under.
Freerollin'
I rarely play in freerolls. It's just too hard to finish in the money with so many people playing and only a couple dozen cashing.
But that's how this whole journey started, isn't it? I only played in the PKR freeroll to do some research about the site so I could write about it. And now I'm trying to start with nothing and end up with the entry fee for the World Series of Poker.
So in the spirit of this project, I've decided to see just what I can do if I devote myself to freerolls to build an online poker bankroll. To make things interesting, I will be playing in as many freerolls as I can for seven days a week.
The first step in this process was figuring out what types of freerolls are out there. Some poker rooms require a deposit in order to play. Others allow anyone to participate, regardless of whether they've made a deposit or not. I decided to only play at sites where they allow anyone to play.
Surprisingly, there are several very good options for players who want to take a shot at cashing without making a deposit.
Full Tilt:
Offers nine daily freerolls with a $100 prize pool. The top 27 players earn at least $2, with the winner taking home $15. Most are No Limit Hold'em, but they also offer Razz, Pot Limit Omaha and H.O.R.S.E. Field is capped at 1,800 players.
Poker.com:
Offers a freeroll with a $50 prize pool every two hours. The top 10 players win cash, with the winner taking home $15. The site offers the best Hold'em variety, with No Limit, Pot Limit and Shorthanded tournaments along with two Pot Limit Omaha tournaments. Field capped at 1,500 players. Poker.com also offers sit-n-go freerolls with its Fun Step promotion. Players who win the third Fun Step win $1.
Absolute Poker:
Far and away the best variety of freerolls with over a dozen $50 prize-pool tournaments. The top 18 players win money with the winner claiming $10. Absolute Poker offers freeroll tournaments in Limit and No Limit Hold'em, Pot Limit Omaha, Omaha Hi/Lo, Seven Card Stud and Stud Hi/Lo. Two of these tournaments offer rebuys and add-ons, but the entry fee is free.
e-Poker USA:
Offers six $10 prize pool duplicate poker freerolls daily (
more information on duplicate poker
). e-Poker USA also offers four daily freerolls qualifiers to a weekly $350 prize pool tournament.
I plan on playing as many of these tournaments as I can. If I win money in these tournaments, I'll use that money to play in cash games. And I'll continue to try to build the bankroll from freeroll winnings as well.
The official over/under in the office for my weeklong adventure is $10.
Come on back for updates. I'm keeping a running log of my results.
PokerRoom.com pays up
PokerRoom.com finally honored payments to winners of a $19,000 guaranteed prize pool tournament.
The funny thing is, they couldn't even do that right.
A few weeks ago, PokerRoom's tournament lobby promoted a $19,000 guaranteed tournament. Only about 250 players signed up and paid the $22 entry fee, creating a $13,000 overlay. Winners were paid according to the guarantee, but a few days later, funds were taken out of their accounts.
PokerRoom players who posted on the site's message board were understandably upset about the removal of funds from other players' accounts. Many questioned how safe their accounts were, and most wanted the funds returned along with an apology for the inappropriate actions.
Oskar Hornell, the founder of PokerRoom.com, broke the company's two-week silence when he posted on the message board on Jan. 3.
"Ladies and gentlemen, please put down your pitchforks and torches for a moment and hear me out," Hornell begins
in his post
.
He goes on to say that all the prize money that was removed from players' accounts had been returned. He explains that a software glitch caused the tournament to display a guarantee that was not accurate.
"Our staff discovered the error and attempted to correct it by removing the sum that wasn't supposed to be there. At the time it must have seemed like the natural thing to do,"
Hornell then goes on to discredit those who were understandably upset by the situation.
"Personally speaking, however, I must say that I'm a little disappointed to see so many being eager to jump on the bandwagon of hate, without first investigating the facts or background of the situation," Hornell writes. "It seems that some people just want to read the things that support their already formed picture of 'the big, bad corporation ripping off the little guy'. But things aren't always that black and white in reality."
In my humble opinion, Mr. Hornell, it's pretty black and white. Someone made a mistake and some of your players got paid more than they were supposed to. That's your fault, not theirs. And you can't blame your customers for feeling like they aren't secure when you go into accounts and remove money.
Judging by the response to your post, I don't think you've managed to get anyone to put down any pitchforks and torches just yet.
Poker After Dark: Worth a shot if you're up at 2 a.m.
NBC duped me into thinking the premier of
Poker After Dark
would be on Tuesday night at 2 a.m. when they announced that the show would debut on Jan. 2. Turns out the date changes at midnight, and they meant Monday night at 2 a.m.
So I set up my DVR to tape Tuesday night's show. I later found out that you could watch all of this week's episodes on NBC.com.
The format is a little confusing because the players have a combination of chips and stacks of cash, making it unclear whether it's a tournament or a cash game. It's actually a $20,000 buy-in winner-take-all tournament.
The first few episodes are a mixed bag. The anonymous commentator is just awful. The show would be 1,000 times better without him. Seriously, if you're watching poker at 2 a.m., you either recognize a double belly-buster straight draw, or you don't care.
The other problem is the cast this week. With Phil Hellmuth and Shawn Sheikhan both mugging for TV time, there's so much table talk that sometimes it's almost impossible to figure out what they're actually saying.
But there are several aspects of
Poker After Dark
that make it worth watching. Normally I hate , but Shana Hiatt conducts interviews with players during the tournament, and I find the live interaction refreshing when compared to the cliché filled postproduction commentary.
Since almost every hand is broadcast, including pots won by a single preflop raise, the banter is often more interesting than the poker, when it can be understood. Did you know Steve Zolotow once bet Annie Duke $500 that her marriage wouldn't last five years? Did you also know that Stevie Z was arrested in Canada under suspicion of diamond smuggling? Watch
Tuesday's show
, segment six, for all the details.
The unfortunate thing about Stevie Z's diamond smuggling story is the timing is awful. It takes place during the most interesting hand of the whole show. The stories and interviews, however, will probably be more important to the show than the quality of play. But seriously, I can do without hearing Annie Duke talk about condoms.
I doubt that
Poker After Dark
will draw a large devoted audience outside of insomniacs and poker addicts with DVRs. But it may draw in parents of newborns. My wife is expecting our first baby in about two weeks, and if I'm trying to get the baby to fall asleep at 2 a.m.,
Poker After Dark
just might be on in the background.