ARCHIVES
October 2006
November 2006
December 2006
January 2007
February 2007
March 2007
April 2007
May 2007
June 2007
RECENT POSTS
Got the ball ... now let's get to trading!
Trade number four!
Building momentum ... SSME is in the Boston Globe!...
Big week for Internet gambling legislation
24 hours of poker ... again
It's official: I have part of Jimi Hendrix's House...
Trade number three is in the books!
Write your Congressman, part II
Joe the Pro: Internet poker mockumentary
I love Norwood
TRADING HISTORY

A Sixty Cent Check, traded for ...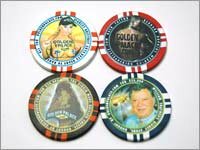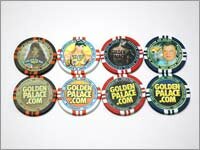 500 Poker Chips, traded for ...
A Signed Basketball, traded for ...
Two pieces of a house Jimi Hendrix lived in, traded for ...
A limited edition Super Bowl XXXVI football signed by Adam Vinatieri
T.J. Cloutier is my hero
So I've been out at the World Series of Poker for almost a week now, covering the $50,000 H.O.R.S.E. World Championship. And if I've learned anything in the last week, it's this: T.J. Cloutier is bad ass.

Not because he's tough and intimidating. In fact, he's quite friendly (though he can be a little gruff). And it's not because he's big, strong and tough, even though he is about 6-4 and played in the Canadian Football League in his younger days.

T.J. is badass because he can handle a bad beat – and one that keeps him from breaking a WSOP record – with class and style.

The $2,000 Pot Limit Hold'em tournament was down to three tables when I arrived on Saturday, and T.J. was in the mix, looking to move back ahead of Phil Hellmuth for the record for most career final tables. T.J. had held the record for several years, but Hellmuth tied him with two final tables in this Series.

With three tables remaining, T.J. had a player all in on the turn. Both had Ace high, but T.J.'s kicker beat his opponent's four. He needed to fade three fours and a wheel draw, but his opponent hit a runner-runner flush to double up and cripple T.J.

T.J. swallowed hard, counted his chips and went back to business. He built himself back up and was in position to make his 40th career final table. There were two tables left and they were playing shorthanded, looking to knock out just two more players to get to a final table.

He finally ended up all in with A-8 and made two pair on the turn to move ahead of Yuval Bronshtein's pocket 10s. Then Bronshtein's miracle river card arrived, a 10 for a two-outer, and T.J.'s pursuit of history ended just like that.

He grimaced for about two seconds, then got up, shook the young man's hand, and walked away from the table. He didn't move any faster than he normally walks. He didn't complain about his bad luck. He just called it a day.

The poker world is changing fast, and I fear that we sometimes celebrate young, brash aggressive players (e.g., Bronshtein) rather than the old guard who made the game what it is today.

One amateur player, who busted out a few spots before Cloutier, gave him the greatest compliment: "It was an absolute pleasure to play with T.J."

And it was an absolute pleasure to watch him play, too.
LINKS
U.S Players Search
Online Gaming News
Online Casino City
RSS FEED LINKS
add to My MSN

blog RSS feed

ADVERTISEMENTS