ARCHIVES
October 2006
November 2006
December 2006
January 2007
February 2007
March 2007
April 2007
May 2007
June 2007
July 2007
August 2007
RECENT POSTS
PPV coverage of WSOP was like a blast from the pas...
No, I didn't make it this year, but that's okay
The Main Event - the numbers game
T.J. Cloutier is my hero
Got the ball ... now let's get to trading!
Trade number four!
Building momentum ... SSME is in the Boston Globe!...
Big week for Internet gambling legislation
24 hours of poker ... again
It's official: I have part of Jimi Hendrix's House...
TRADING HISTORY

A Sixty Cent Check, traded for ...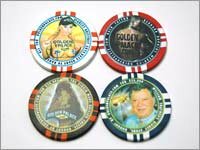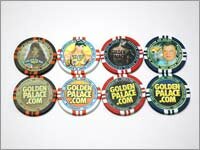 500 Poker Chips, traded for ...
A Signed Basketball, traded for ...
Two pieces of a house Jimi Hendrix lived in, traded for ...
A limited edition Super Bowl XXXVI football signed by Adam Vinatieri
Slow and steady increase in support of regulation
When Rep. Barney Frank (D-Mass.) introduced the Internet Gambling Regulation and Enforcement Act in late April, he had just 11 cosponsors.

Since that time, there's been a slow and steady increase in support for Frank's legislation. The number of cosponsors has nearly tripled to 31 in the three months since he introduced the bill.

This still, however, represents less than eight percent of the entire House of Representatives, and the current number will likely need to be tripled yet again before Frank, the Chairman of the House Financial Services Committee, will consider bringing the matter up for further discussion in committee.

One of the main problems, in my view, is that there are only three Republicans supporting the bill, compared to 28 Democrats who have signed on. While plenty of bills move through Congress thanks to partisan politics, I don't believe the IGREA will be one of them.

It's hard enough for a politician to support expansion of gambling. It's even harder when it looks one political party could be tagged as the Godless gambling party.

While politicians are happy to accept money from gambling interests (e.g., Rep. Bob Goodlatte (R-Va.), who accepted thousands from Harrah's and the NTRA while introducing several Internet gambling prohibitions) for their campaigns, they are also aware that plenty of people in the United States believe that gambling is immoral and that it should be outlawed entirely.

These people have always been more vocal about their distaste for gambling than those who believe Americans should be free to do what they like with their money. It's more socially acceptable to say that gambling destroys families than it is to say that you enjoy a recreational wager, whether it be on a slot machine, a poker tables or at the race track … oh wait, scrap that … betting on horses is okay.

Anyway, in order for this legislation to move forward, we need more Republicans on board. And this issue should be very attractive to economically conservative Republicans (Rep. Ron Paul, a candidate for the Republican nomination for the presidency, is one of the co-sponsors), especially those who want to return to their traditional values (less government, more personal economic freedom) in an attempt to move away from the policies that President Bush espouses.

Bush, by the way, is reaching historically low popularity levels. He's just one point shy of Nixon's record low, which came just weeks before he announced his resignation.

Politicians, yes, even Republicans who are counting on the conservative Christian vote, will listen. Those of us who believe that Americans should be use our money to play at virtual poker tables or casinos or bingo halls just need to be as vocal as those who believe that it's wrong for anyone to make that choice.

Throughout American history, free will has almost always prevailed, and I believe that if enough Americans inform their representatives in Congress that they'd like to have the ability to choose to make a bet online, Congress will find a regulatory framework to make it happen.
LINKS
U.S Players Search
Online Gaming News
Online Casino City
RSS FEED LINKS
add to My MSN

blog RSS feed

ADVERTISEMENTS