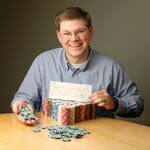 The story ...
Last summer, I won sixty cents in a free poker tournament at
PKR.com
. I planned on playing until I lost it all, but PKR.com decided not to take U.S. players for real-money games when Congress passed the Unlawful Internet Gambling Enforcement Act. I cashed out and asked my readers what I should do with my sixty-cent check. One suggested I try to trade it for something better. So here I am, trying turn my sixty-cent check into a World Series of Poker Main Event entry through a series of trades. And while my plan may seem ridiculous, it's no more ridiculous than the UIGEA.
Currently available
Limited edition Super Bowl XXXVI football signed by former New England Patriots kicker Adam Vinatieri. Trade includes certificate of authenticity, and also includes autographed picture of Patriots' safety Rodney Harrison. Want more information? Go to the
trade post
. Want to make an offer? Shoot me an e-mail at . Want to know how I got this far? Go to the
trading history
.  
ARCHIVES

October 2006 November 2006 December 2006 January 2007 February 2007 March 2007 April 2007 May 2007 June 2007 July 2007 August 2007 October 2007

RECENT POSTS

Yeah, it's been awhile ... but the "regulations" g... H.O.R.S.E.ing around G to the izoogle Slow and steady increase in support of regulation PPV coverage of WSOP was like a blast from the pas... No, I didn't make it this year, but that's okay The Main Event - the numbers game T.J. Cloutier is my hero Got the ball ... now let's get to trading! Trade number four!

TRADING HISTORY

A Sixty Cent Check, traded for ... 500 Poker Chips, traded for ... A Signed Basketball, traded for ... Two pieces of a house Jimi Hendrix lived in, traded for ... A limited edition Super Bowl XXXVI football signed by Adam Vinatieri

Yeah, it's been awhile ... but the "regulations" got me back

It's been awhile.

Yes, it's been awhile since I've posted anything on my blog. And people have been asking me if I'm still trying to trade my way from a 60-cent check from an Internet poker room to a seat in the World Series of Poker.

The answer is a resounding yes.

The reason I've been neglecting this blog, however, is that I've recently had a slight change in profession. I really enjoyed spending the last year and a half writing about the gambling industry. But an opportunity came along, and I couldn't possibly pass on it.

Now while I no longer write about the industry, I still believe that the UIGEA was a terrible idea. Why, you ask? Well, this law is so bad that it took the Treasury Department twice as long as it was given to come up with the regulations necessary to enforce this crazy law. And according to its own report, which came out today, it will take 368,254 hours to enforce these regulations. That's 185 people working 40 hours a week for 50 weeks.

Seems silly to me to put forward a law that could cost over $100 billion in WTO sanctions and pay 185 people to do something that's producing no revenue.

As I've always said, regulation is the way. And until that happens, I'm still continuing my quest to trade my way from a 60-cent check from an Internet poker room to a seat in the World Series of Poker. Right now I've got a limited edition Super Bowl XXXVI football signed by Adam Vinatieri up for grabs. A signed picture of Rodney Harrison is included in the trade as well.

Think the UIGEA is silly? Want a piece of Patriots history too? Make me a trade offer and get me closer to my goal.

LINKS

U.S Players Search Online Gaming News Online Casino City

RSS FEED LINKS

add to My MSN

blog RSS feed

ADVERTISEMENTS